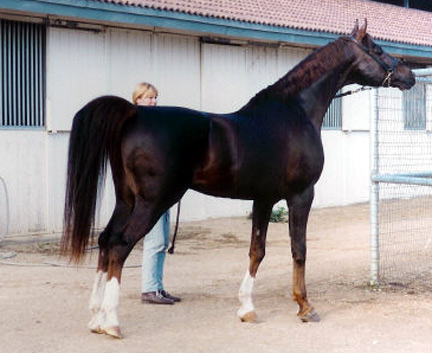 Ambir Dragon #415923
1988 Chestnut Stallion
16.1 hands
Top Get:
Sparkling Spirit3/33(6-5-5-12)2-1 Quadra Crown
Mels Ambir3/30(5-3-5-10)2-1 ARC

FEE: $1000 Transported Semen Available
Owned by Anne Blount Moraga, CA. Standing at Van Gilder Arabians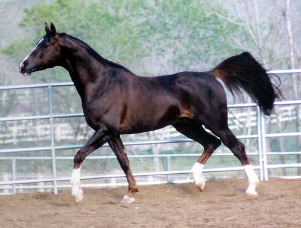 Ambir Dragon has been to just one Class A show at Del Mar, California where he won the Stallion's Hunter Pleasure Class and took 2nd and 3rd in two other large hunter pleasure classes. Subsequently, he raced at Los Alamitos where he came in 2nd in his first race and then won his next two races. He has also successfully competed in dressage (Training Levels 3 and 4) and enjoyed a competitive (NATRC) trail ride in southern California.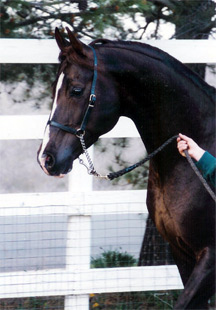 His dam sent two other offspring to the track and they both became winners. He has two daughters who raced and both are race winners, Sparkling Sprit being the 2002 Quadra Crown Race winner.
Ambir Dragon is a horse of great size and beauty with a sensible mind and calm, friendly disposition.