FV STOIC
1984 - 2000
by Carol Woodbridge Mulder
Van Gilder Arabians, Wasco, Oregon, lost their fine stallion FV Stoic on February 5, 2000. He was 16 years old. The cause of death was a brain tumor the size of a tangerine in the right side of his brain.
Chestnut FV Stoic was foaled may 25, 1984. he was bred by Dr. David Ward, then of Aldergrove, British Columbia, Canada. His sire was Farlane 12081, by Abu Farwa 1960 (Rabiyas 1236 x *Rissletta 1201), out of Alleyana 2612 (Alla Amarward 1140 x Rifeyna 1434). Stoic's dam was Muferra 63488, by Muhuli 11717 (Abu Farwa 1859 x Follyanna 5193), out of Ferlina 26504 (Buddi 2711 x Ferlita 10025).
Marjorie Van Gilder began breeding Arabians in 1948. She is one of the longest-term breeders in North America. Today she has some of the most outstanding and most successful Crabbet/American Arabians in the country. For many years Muhuli, one of the best and most renowned of the Abu Farwa sons, was chief sire at Van Gilder Arabians. Marjorie breed Muferra, dam of Stoic: this good producing mare was also dam of Aulani Farwa (by Aurab). Marjorie acquired half interest in Stoic as a yearling, with Dr. David Ward, and he spent his life at Marjories ranch. Many people considered FV Stoic one of the best sons of Farlane, his sire who was held by some to be one of the most beautiful Arabians stallions ever.
Stoic, himself, was a very handsome horse with a strong Abu Farwa look: of course he out to have had, since he was both a grandson and great grandson of Abu Farwa.
Unlike some of the other Van Gilder stallions over the years, Stoic was never put on the race track where Van Gilder Arabians have been notably successful. Instead, during 1987-88, when he was 3 and 4 years old, he was shown limitedly under both English and Western tack. At these open and small all-Arabian shows, Stoic did well. It was then decided to put him in endurance, but soon after starting he injured his back in a fall. The endurance plans had to be put aside.
During his life FV Stoic sired 15 purebred Arabian foals, with 3 more expected this year, in 2000. He also sired 3 partbreds.
The death of this fine stallion is a true loss to the Arabian breed.
CAROL'S PERSONAL MEMORIES OF FV STOIC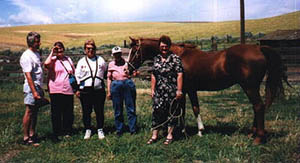 Since FV Stoic was favorite of m ine, I relate the rest of this account from a very personal viewpoint. I first saw FV Stoic as a young mature stallion. I liked him and thought him a most promising representative of both his excellent breeding.
Years later my friend Janice Siders and I were visiting Van Gilder Arabians. Marjorie had to go to Portland to pick up a shipment of transported semen; she was breeding her outstanding mare Muhulis Melanie (Muhuli x Bint Gamil) to Ambir Dragon (Night Dragon x Ambir Enchantress, she is the dam of several race winners), the awesome big race winner owned by Anne Blount (the resulting foal, the lovely Mels Ambir, is now a race winner). Marjorie invited Janice and me to accompany her to Portland, but we declined, having just the day before made the very long drive to reach Van Gilder Arabians. While Marjorie was gone, Janice and I occupied ourselves by spending the time in Stoic's stall grooming him. He had probably never gotten so many consecutive hours of grooming before in his life. We had already been impressed with his quality and now we were impressed with his sweet and patient disposition. We did not even need to put a halter on him.
While we were in his stall, a special mail delivery truck drove into Marjorie's yard. We could see it from Stoic's stall (Stoic alerted us to its arrival). I went out to talk to the driver and explain that nobody was home and that my friend and I were only visitors. He said "Mrs. Van Gilder has a package" and added that I could sign for it. I said, "Oh, Mrs. Van Gilder has gone to Portland to pick up a package - and now you have brought it." The young man rummage around in the back of his truck for Marjorie's package and pulled out a large manila envelope. Knowing only that shipped semen came in special containers, I was so surprised I was not thinking. I exclaimed, "How could they send semen in that?" the young man, filling in a form on a clipboard he held at his waist, glanced up at me from under his eyelids and his look said he thought I was some crazy old woman. He hurriedly finished his mission and drove quickly away. I took the envelope and went back to be with Stoic and Janice. (The manila envelope later proved to be important mail Marjorie was expecting.)
Anyway, it was that day, and spending so much time with this gentle, kind and magnificent horse, that Janice decided she wanted to breed one of her mares to Stoic.
A couple years later Anne Blount leased Janice's superlative young mare, Night Fancy (Night Dragon x Shafarla), from Janice and she is currently in foal to FV Stoic. When we took the mare to Van Gilder Arabians, Anne and I found ourselves alone with Stoic while Marjorie took care of some business on another part of their ranch. Marjorie had given us permission to take Stoic out in front of the barn where he could graze. I held him while Anne groomed him as he grazed. We were listening to the radio kept in the he barn to keep Stoic company when he was there alone. A news broadcast told of a livestock rustler in Trinidad who was caught with the backseat of his car filled with three (? - cannot remember exact number for sure) sheep wearing dresses! We laughed and Anne turned to Stoic and asked, "What size dress do you wear, Stoic?" - as if he would have fit in the camper shell of her little pickup!
FV Stoic was one of my favorite modern stallions of Abu Farwa breeding. I felt him a very worthy representative of this great line of Arabian horses.
(photo by Ronda Hanson, 8/96)


| Top Get | Nominations | Semen Transport |
| --- | --- | --- |
| R LUCKY ONE (endurance) | Quadra Crown | No |
.
.
Abu Farwa
.
Farlane
.
.
.
Alleyna
FV Stoic
Chestnut,15.1 5/25/84

.
.
.
.
Muhuli
.
Muferra
.
.
.
Ferlina